I had never worked in acrylics before, but a friend asked if I would do two paintings on wood, which would not be done with watercolors. I am thankful for the practice I had on these small pieces because they gave me the confidence to paint the Marlow mural in the elementary school.

Still Life of Wine Bottle, Glasses and Grapes
These two paintings of the wine bottle and the vineyard were done at the request of a friend who had the two pieces of wood in the shape of a bunch of grapes. I had never painted in acrylics before, so I went out and bought some new paints, practiced on some scrap pieces of wood, took photos of the arrangement, then got to work. Acrylics are very different from watercolors, but it was a fun adventure!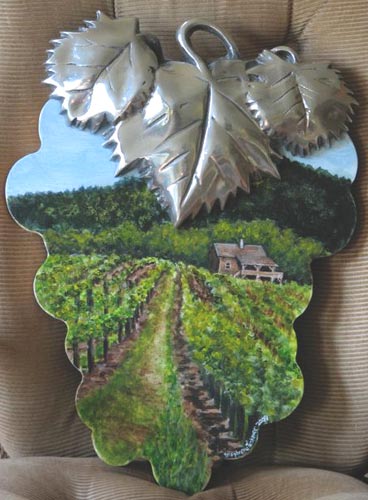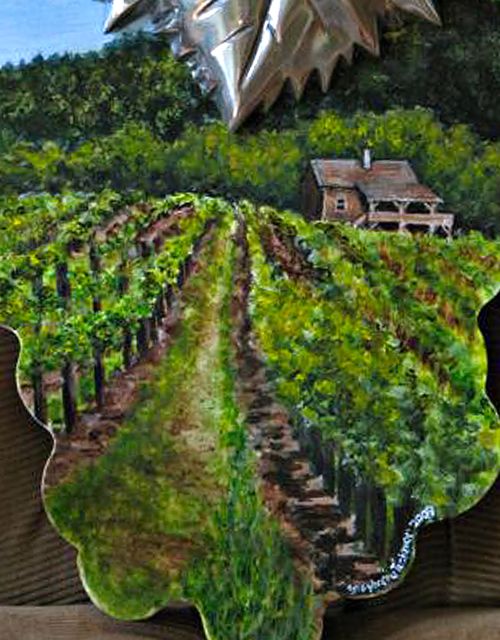 Shortly after finishing the acrylic paintings on wood, I was asked to paint a mural of Marlow village on the wall of the multipurpose room at the John D. Perkins, Sr. Elementary School in Marlow, New Hampshire. I had never attempted anything on this large of a scale, but took on the challenge. After two months in the summer of 2008 painting at night and on many weekends, I finished the mural on the day before school started! I still cannot believe I actually did the painting when I look at it now. You can see the mural in process here...