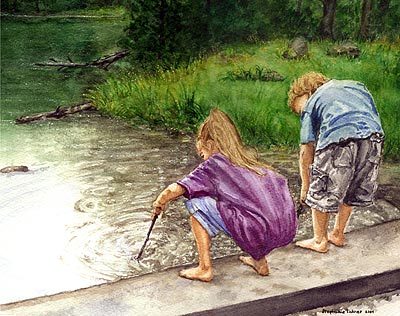 "It has always seemed to me, ever since early childhood, amid all the commonplaces of life, I was very near to a kingdom of ideal beauty. Between it and me hung only a thin veil. I could never draw it quite aside, but sometimes a wind fluttered it and I caught a glimpse of the enchanting realms beyond-only a glimpse-but those glimpses have always made life worthwhile."

- L.M. Montgomery
I am a self-taught artist, originally working in pencil and charcoal before discovering watercolors. In my paintings I strive to capture images of the rural environment around me, as well as people engaged in everyday activities. I mainly work from my own photographs, which I take of my local surroundings and when I am traveling. I grew up on Cape Cod and have spent most of my adult life in southwestern New Hampshire. These places greatly influence my painting. The natural beauty of the world around me and visions of daily life give me the inspiration to paint.
I have original paintings, matted and framed prints, greeting cards, magnets, and bookmarks available in my Online Store. I also paint commissioned pieces from photographs of people, pets and favorite places. For more information on commissioning a painting please visit the Commissions page.
Monadnock Buy Local
Find postcards of my Marlow-themed watercolors, enjoy a giant ice-cream cone, and buy some delicious vegetables or flowers at Aaron's Specialty ice-cream, gift shop and farm stand in Marlow, NH. Shop Local!
604 NH Route 10, Marlow, NH
_____________________________
Holiday Season Hours
Aaron's Specialty will remain open as a Holiday Shop Saturday's and Sunday's 10am-3pm. They will be serving coffee and an assortment of pastries. Holiday wreaths, buckets, gift baskets, locally made items and more will be sold. So, stop by the little barn on the hill. We will be closing for the season on December 11th.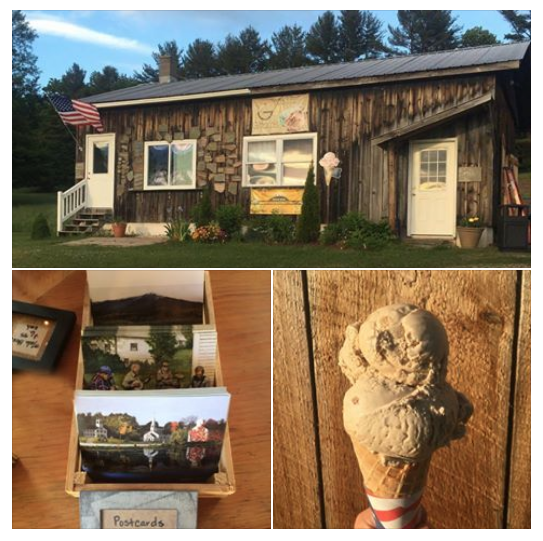 It's time to clean my studio! My room is rather small, and I am running out of room to store all my paintings. So, I am holding a Clean the Studio Sale. 50% off a series paintings that are all over five years old.
Click here
to see the sale items. Thanks!